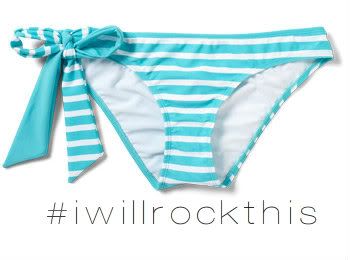 So. Today I'm kicking off a weight loss challenge organized by my friend Wendy. First of all, if anyone ever invents a time machine, I would like to use it to go back in time and punch high school and college me in the face. YOU WERE NOT FAT, younger self. You most certainly did not have a stomach that had carried nine pound babies, and all that those little darlings left behind.
I need this, you guys. In two months we're going on vacation. The second half of our vacation we'll be with friends in Vegas, and at one point someone casually said, "Oh, we'll just be in the pool all day," and I panicked. I would like to not have to wear a swim skirt this year is what I'm saying. I have NO MORE excuses. I am not pregnant or nursing, or trying to get pregnant, nor will I ever be any of those things again, so I can't tell myself that I'll just "lose it all at once when we're done." I really, really want to do this, and I'm also totally terrified of failing, or giving up. I know that I can, follow through, but will I? (I won't list all of the diet and workout plans that I have quit in my adult life, but trust me that the list is impressive.)
A friend created a truly terrifying workout plan for me. (He's a college basketball coach and seems to know what he's talking about. Also? I think he's trying to kill me.) I'm thinking there might be a lot of workout and food related talk around here, because this sort of things becomes all consuming for me. Usually by about day 6, my husband's head starts to resemble a cookie, and I start thinking about all of the awful things I would do to a person for a cheeseburger. So, it looks like I've got the right attitude going in! I mean, I am excited for the possibilities. I really, really, am. I'm also pretty lazy, and I like food. Sounds like a recipe for success right there!
So, hit me with inspiration, because I neeeeed it. Oh, and there's a nice little prize at the end for the winner, so I think $500 is going to be my mantra for the next two months. Has a nice ring to it, don't you think?