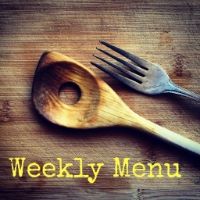 Last week we had six birthday parties in the span of eight days. Our week was heavy on pizza and light on veggies. I made a real dinner exactly one time, and even that was a struggle because I have not been planning. I've been pulling chicken or turkey out of the freezer to defrost and then throwing something together an hour before dinner, which makes me dread dinner time. I'm (yet again) back on the meal planning wagon.
Here's what's on tap for the week.
Thai Peanut Chicken – This is just finishing up in the crock pot and my kitchen smells amazing. Thanks to Jessica for the recommendation!
Ricotta Meatloaf – Despite it's unfortunate name, I really like meatloaf, and so does everyone in this house. I'm taking Rhi's suggestion and trying this change up to my usual recipe.
Herriseh – This is an Armenian meal that can be most closely described as chicken oatmeal. Sound yummy? It really is, but it's hard to describe. You'll just have to take my word for it. While not an exact replica, that recipe is close to my mother-in-law's.
Dinner with friends – We're having friends over for dinner on Wednesday, so I think we'll make some fun things for the kids.

Cucumber, tomato and mozzarella skewers (with heart-shaped cucumbers)
We are totally a leftover eating family, so that will get us through the rest of the nights, and on Valentine's Day we're taking the kids to Disneyland, so we'll have dinner there.
Now I need to crowdsource some inspiration for next week. What are you eating? What's one of your go to meals?