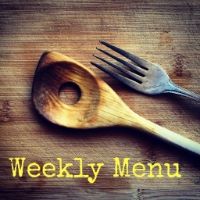 Chicken Tortilla Soup – This is one of Sarah's recipes, and her food always looks so good. There's rain in the forecast this week, and warm soups fit the bill. I'm counting on leftovers to get us through two nights.
Roast Chicken Breast with Garbanzo Beans, Tomatoes and Paprika – Also recommended by Sarah. We're always looking for ways to fancy up our chicken. The kids will still complain, I'm sure.
Crock Pot Sloppy Joes – We start t-ball practice this week, so I need recipes that can be thrown together in a just a few minutes when we get home from practice. I predict several of these nights will be of the grilled cheese and soup variety, but I'm going to aim to use the crock pot on practice nights as often as possible. We'll use ground turkey in place of the ground beef in this recipe.
Black Bean Spinach Enchiladas – I'm working on rebuilding my freezer stash, so I'll double this recipe to leave me with enough to freeze.
That's all folks. If you're writing up your menu plans, I would love to read them. I'm always looking for dinner inspiration!