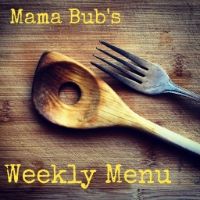 First, I need to HIGHLY recommend the chicken tortilla soup from last week's menu. I made mine too spicy by using too many jalapenos, but it was still delicious, even though the husband and I went through a ton of water and almost an entire loaf of French bread, just to survive the heat. (I bought the take and bake French bread from the grocery store, and it was so wonderful. Hot crusty bread for dinner, with almost zero effort.) I'll use green chiles next time, and I'll double the recipe so we have plenty to freeze.
Now, on to this week.
Spinach and Black Bean Enchiladas I know! This is cheating because it was on last week's menu, but due to having a ton of leftovers, a surprise pizza night, and dinner with my parents, we never made these. Sarah mentioned that they weren't very filling, so I'll add shredded chicken to mine.
Chicken Marsala I don't know if anyone in this house will eat mushrooms. Experiment!
Easy Chili This recipe calls for black beans, but I think it's versatile enough to sub for another kind of bean. I'll use whatever I find in the pantry this week.
Terriyaki-ish Chicken – I'm winging this one. I'll use Trader Joe's Soyaki sauce to marinade the chicken and then cook (saute?) the chicken on the stove in more of the sauce. In the past it has reduced down to a glaze.
Someone asked if she could link up, and you absolutely can! Leave a link in the comments, and you can grab the button code in the sidebar. I would love to see what you're making!