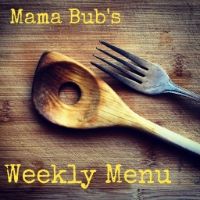 My friend Wendy has hopped on the meal planning train (super helpful to me, because I can steal ideas from her!) and I loved what she said about last week's meals.
"We tried four new recipes and though they weren't all a hit,
they were on the table."
Yeeeessss. Menu planning has helped me to try out new recipes, and has eliminated the 4:00pm panic attack. Trying new recipes can be stressful, because what if everyone hates it? They'll eat again. If we love it, we have a new recipe to add to the rotation. If not? OH WELL. Now we know.
On to this week's meals.
Thai Chicken Pizza – We grilled chicken last night, and I have a ton leftover. I'm adding some to a salad for lunch, and using the rest on the pizza. I love the idea of a Monday night pizza night. For some reason I always feel like this is an end of the week meal.
Baked Ziti – I'll be doubling this and freezing it FOR SURE.
Lentil Soup – This is similar-ish to the in-my-head recipe that I use for lentil soup. (I used diced tomatoes rather than tomato paste, I use fresh lentils.) I'm in love with the Trader Joe's mirepoix for this recipe. Perfectly diced onion, celery and carrots. Lazy for sure, but again OH WELL. (Truth be told, I'm using a frozen batch of this soup that I made recently. Truth in menu planning!)
Crock Pot Chicken and Dumplings - No cream-of-anything in this recipe!